Division 9 tournament report 5/18/2008



North East River Maryland.

We held our last event of the spring on the susquehanna flats for the 2008 season under the toughest conditions this year. COLD WINDY AND WET.

Water temps have been steady for the last 3 weeks holding at 60° with the full moon the night before and a south west wind blowing at 10 to 15mph gusting to 25. It pushed the tide very high and into the parking lot.

We also had 4 other tournaments launching out of the same ramp. fishing was reported to be very slow by all anglers. The fish that were caught came mostly from the grass , wood or boat docks.

Congrats to John Vanore for winning on a tough day, looks like he maybe starting his run for a second angler of the year title. And to newcomer Derek Littlejohns has started out with a bang by having a 3rd and 5th place finish in his first 3 events.

I want to thank all our sponsors for thier support and hope that we continue to support them.

Our next event will be held on Sunday June 22nd on the tidal Delaware out of Neshaminy ramp.


| | | | | |
| --- | --- | --- | --- | --- |
| Place | Name | Fish | Weight | Lunker |
| 1 | John Vanore | 3 | 10.38 | 4.25 |
| 2 | Ryan Park | 2 | 6.05 | |
| 3 | Derek Littlejohns | 1 | 3.18 | |
| 4 | Wayne Alker | 1 | 3.00 | |
| 5 | Rob Santos | 1 | 2.51 | |
| 6 | Den Budzitowski | 1 | 2.20 | |
| 7 | Chuck Warren | 1 | 1.94 | |
| 8 | Rob Byod | 1 | 1.90 | |
| 9 | Dale Gorrel | 1 | 1.80 | |
| 10 | John Kirkpatrick | 0 | | |
| 10 | Doug Becker | 0 | | |
| 10 | Bob Conger | 0 | | |
| 10 | Steve Wannberg | 0 | | |
| 10 | Randy Iorio | 0 | | |
| 10 | Cody Schwartz | 0 | | |
| 10 | Ray Marcinkiewicz | 0 | | |
| 10 | Frank Coyne | 0 | | |
| NS | John Graves | 0 | | |
| NS | Thomas McKay III | 0 | | |


Any questions feel free to give me a call

Wayne
215-396-7787





For more info


Visit the American Bass Anglers national website at http://www.americanbassanglers.com/index_aft.php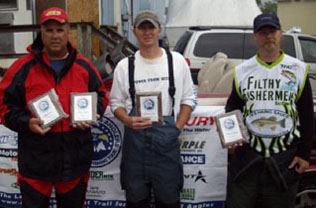 May 18, 2008 (left to right)
John Vanore - 1st, 10.38 lbs and Lunker
Ryan Park - 2nd, 6.05
Derek Littlejohns - 3rd, 3.18 lbs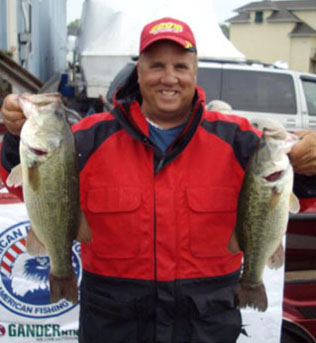 John Vanore - Lunker 4.25 lbs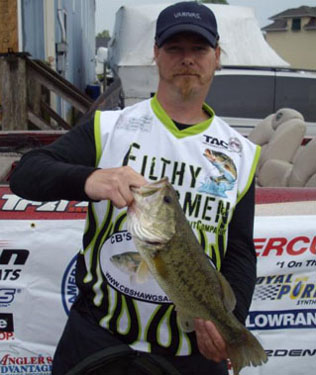 Derek Littlejohns - 3rd, 3.18 lbs