Rick DiIenno Wins The Division 9 2-Day Championship on the Delaware River



From Division 9 in Eastern PA ……Sept 20,21,2008 …… Rick DiIenno from Thorofare, NJ claimed the 2 day division tournament and $656.00 by bringing in four fish limits on Saturday and Sunday for a total of 16.03 lbs and won $110.00 for catching the lunker that weighed 3.90 lbs.

Rick caught his fish south on the river fishing main river grass and structure in the creeks. He said that waiting for low tide was the key. Lures of choice were spinner baits and jigs.

Second place and $276.00 went to Ralph Ferguson with 2 limits weighing 13.06 lbs. Ralph caught his fish all over the river heading south to start, and winding up north near Trenton. His fish were caught using a chatter bait with a hand poured trailer.

Third place went to Wayne Alker with 2 limits weighing 10.51 lbs. All his fish were caught up north on the River using a senko.


The Top five anglers were:
1.
Rick DiIenno
16.03
2.
Ralph Ferguson
13.06
3.
Wayne Alker
10.51
4.
Mike Tenaglia
5.14
5.
Ray Marcinkiewicz
3.03

For compete results click here.



Angler of the Year



Rick DiIenno won the AOY race edging out Ralph Ferguson by 4 points, winning a new E21 Carrot stick flipping stick and bragging rights for the next year.

New father, Ray Marcinkiewicz, finished off a great rookie season by winning the Co-angler of the year and took home a new reel.

This division's next tournament will be the first tournament of the 2009 season, and will be held October,18th 2008 on the Delaware River at Gloucester City Marina. For more information on this or any future events in this division contact Wayne Alker at (215) 396-7787 or by email at Walker4755@verizon.net

Registration is now opened for the regional championships held this fall. click here for more info.

For more information on this or any future event in this division contact Wayne Alker at (215) 396-7787 or by email at Walker4755@verizon.net

__________________

Wayne Alker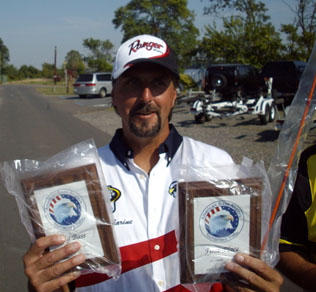 Rick DiIenno - 2008 AOY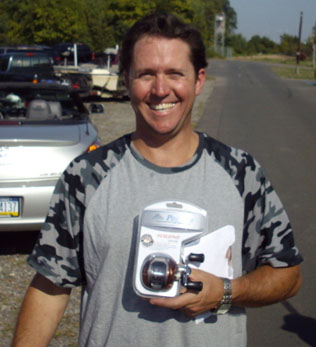 Ray Marcinkiewicz - 2008 COY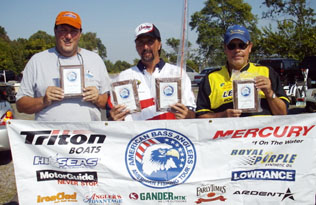 September 20 & 21, 2008 (left to right)
Wayne Alker - 3rd 10.51 lbs
Rick DiIenno - 1st and Lunker, 10.72 lbs
Ralph Ferguson - 2nd, 13.06 lbs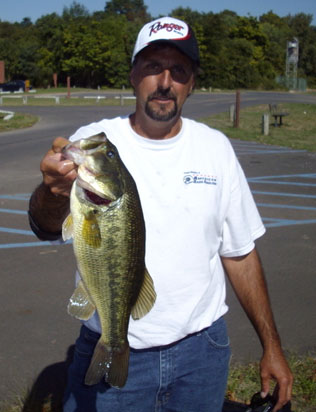 Rick DiIenno - Lunker, 3.90 lbs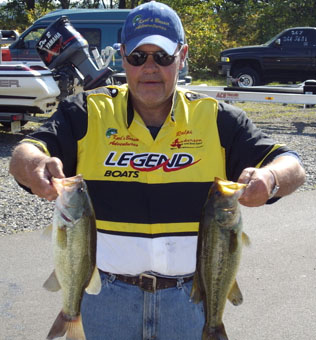 Ralph Ferguson - 2nd, 13.06 lbs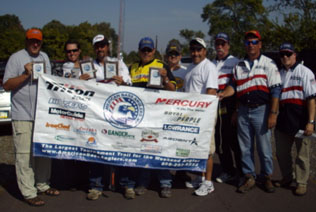 The River Rats