Rick DiIenno wins on the Flats.



From Division 9 in Eastern Pennsylvania November 5th 2011, Rick DiIenno from Thorofare NJ, is one step closer to the ABA National Championship with a 1st Place win and $365.00 in the American Fishing Tour bass tournament held on the North East River this past weekend. Rick had 5 bass that weighed in at 18.34 pounds. Second place went to Mike Piccolo with a weight of 15.76 pounds, third place was Wayne Alker with a weight of 15.31 pounds. Big bass was awarded to Wayne Alker for catching a 5.14 pound large mouth.

Despite a brisk morning with temps in the mid 30's and a northerly breeze our anglers brought a lot fish to scales and quite a few over 4 lbs. Ricky D 2008 AOY looks like he is back to his old form and ready to try for another run at AOY, Ricky said just jigs with a Venom trailer did most of the damage. Wayne Alker gets his second Lunker in a row. Newcomer Mike Hsiao pulls an impressive sack and takes the COY lead!


The Results:
1.
Rick DiIenno
18.34
2.
Mike Piccolo
15.76
3.
Wayne Alker
15.31
4.
Jeff Warner
14.21
5.
Bill Gallagher
12.09

For compete results click here.






Next Divisional Tournament:


November 19 2011, on the North East River at Anchor Marina. map

For more information on this or any future event in this division contact Wayne Alker at (215) 396-7787 or by email at Walker4755@verizon.net

The American Fishing Tour offers low cost, close to home bass tournaments that are designed for the weekend angler. All ABA anglers fish for money and points. The points advance the angler to a same year National Championship

About American Bass Anglers: American Bass Anglers offers over 1,100 tournaments per year in 40 states that are designed for the weekend angler. American Bass Anglers commitment is to provide low cost, close to home tournaments for the weekend angler and at the same time offer each an upward path for angler progression. For more information on American Bass Anglers and the American Fishing Tour, The Toyota Tundra Bassmaster Weekend Series, or the American Couples Series, visit www.americanbassanglers.com/.
__________________

Wayne Alker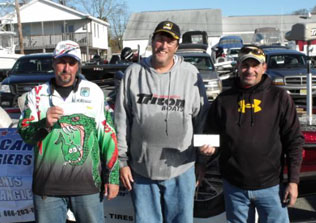 November 5, 2011
Rick DiIenno - 1st, 18.34 lbs
Wayne Alker - 3rd, 15.31 lbs
Mike Piccolo - 2nd, 15.76 lbs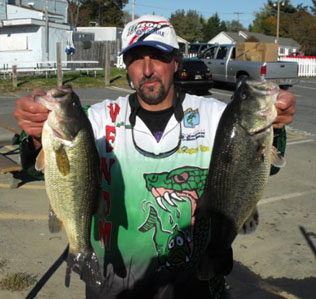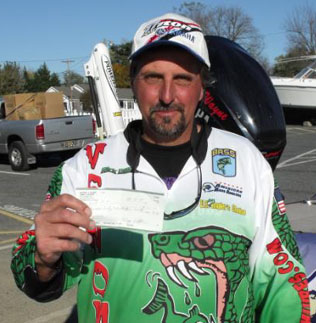 Rick DiIenno - 1st, 18.34 lbs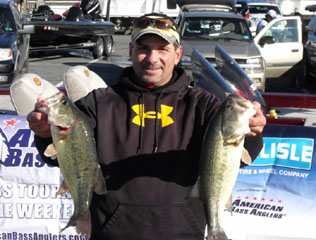 Mike Piccolo - 2nd, 15.76 lbs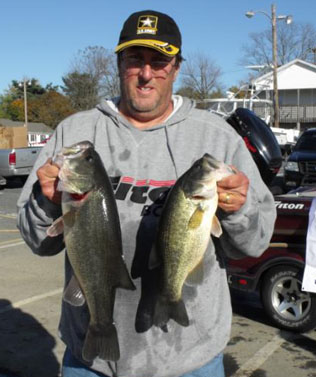 Wayne Alker - 3rd, 15.31 lbs Lunker 5.14 lbs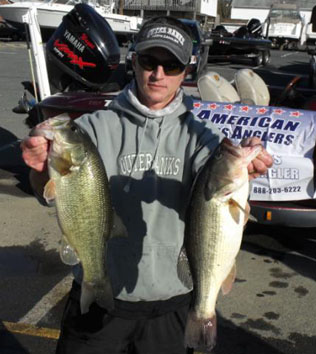 Jeff Warner - 4th, 14.21 lbs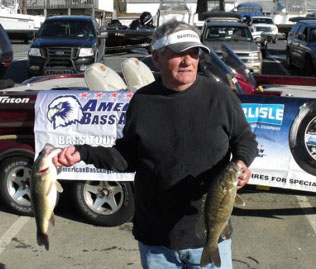 Bill Gallagher - 5th, 12.09 lbs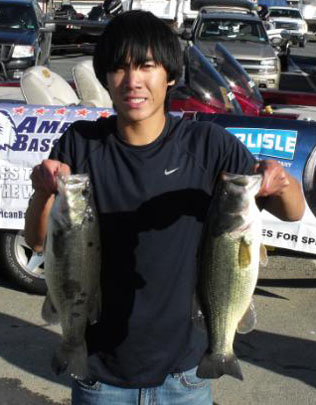 Mike Hsiao - 6th, 11.24 lbs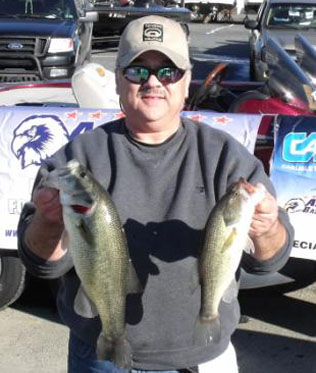 Randy Iorio - 7th, 7.10 lbs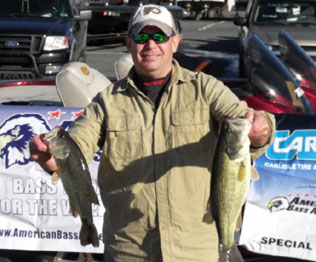 Mike Smith - 8th, 6.72 lbs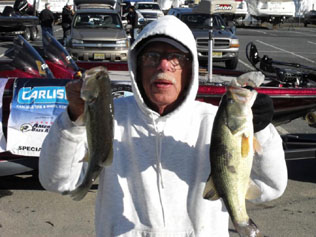 Robert Winward - 9th, 6.61 lbs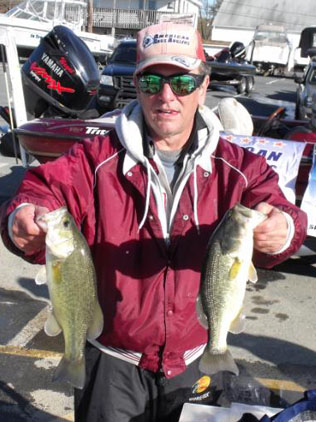 Den Budzitowski - 10th, 4.20 lbs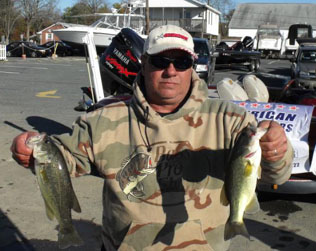 Joe Didomenico - 11th, 4.12 lbs


AOY
1
Pic
759
2
Blake
756
3
Rob&Scott
750

COY
1
C Schwartz
737
2
Mike Teti
736
3
Joey M
555
---
Matt Weber the young gun, taught all the old guys he is the real deal. Matt put on a late season charge taking both the 2 day championship and AOY. Great Job Matt!!!! Cody Schwartz and Joey McCormack battled it out all year for the top co angler spot. It came down to the last day and one fish could have made the difference. Cody's 6th place finish in the 2 day was just enough to edge ahead. Great job to both of you!!!
2021 AOY
Matt Weber
2021 COY
Cody Schwartz
---
Ryan Bauman put on an impressive display winning 5, and 2nd twice, in his 2020 campaign for AOY. Ryan joins the ranks of multiple AOY winners with his second title. Ray Marcinkiewicz remains the top non boater, winning his 3rd straight COY and 4th overall.
2020 AOY
Ryan Bauman
2020 COY
Ray Marcinkiewicz
---
Mike Piccolo came on strong at the end of the season winning both the 2 day and 2019 AOY. Doing it in style he posted a new divsion record with 33.23 lbs, for his second AOY crown. Ray Marcinkiewicz crush the non boater field with an impressive 23.46 lbs and 6.60 lb lunker to take COY for the second year in a row.
2019 AOY
Mike Piccolo
2019 COY
Ray Marcinkiewicz
---
Tenags was hearing footsteps Rich Przybyl had won the last two in a row and was within striking distance. A good limit on day one gave Mike a nice lead. But he was sweating Sunday morning when he watched two fellow competitors load their boat right in front of him. Mike only had one fish in the boat at the time. But nerves of steal prevailed! Mike loaded his boat again and put together the largest winning sack in division history 30+ lbs.
2018 AOY
Mike Tenaglia
2018 COY
Ray Marcinkiewicz
---
Den was 2 points behind Tenags, and Scott was breathing down his neck. He didn't think he had much of a chance but a good limit on day 1 put him in the lead. That limit was anchored by a 3 pounder that he literally got on his last cast. Day 2 he thought he had lost at 2pm only had two in the boat. But same place as the day before. He put 3 more in the boat in the last 10 minutes to seal the win. Joe Ciamaichela Jr wins COY for the 5th time in row. He held off a late charge by Ray Marcinkiewicz to continue his non-boater dominance. But I think he maybe hearing footsteps!
2017 AOY
Den Budzitowski
2017 COY
Joe Ciamaichela Jr
---
Mike Piccolo took the AOY lead into the 2 day, But after day one, it looked like Mike Tenaglia could pull off a come from behind win. But Pic brought in a big 17 lb sack on day two to seal the win! Joe Phillips needed just one more fish, but it was not to be! Joe Ciamaichela Jr wins COY for the 4th year in a row. Great job Joe!
2016 AOY
Mike Piccolo
2016 COY
Joe Ciamaichela Jr
---
Ryan Bauman took a big lead into the 2 day and did not disappoint. His 12 lb sack on day one sealed the deal for Angler of the year. Joe Ciamaichela Jr wins COY for the 3rd year in a row. He was behind going into the finals but pulled out another title on the last event.
2015 AOY
Ryan Bauman
2015 COY
Joe Ciamaichela Jr
---
Bill Cowperthwait kicked tail for most of the year, and went into the finals with a good lead but on saturday he could not manage a fish, leaving the door open for AOY. But Bill is a tough competitor and locked the deal up with a good sack on sunday. Robert Winward wins the two day championship. A cold front made the fishing tough but Robert had them figured out when no one else could. Joe Ciamaichela Jr wins COY for the 2nd year in a row. He had a big lead going into the finals and crushed all hope amoung his competitors with a 5 pounder on day one.
2014 AOY
Bill Cowperthwait
2014 Two Day Champ
Robert Winward
2014 COY
Joe Ciamaichela Jr
---
Win a fishing adventure to Ray Scott's Trophy Bass Retreat. details...
---
Ricky D, crushed the field with a 29 lb sack to win the two day and nail down his 3rd AOY title and his second in a row. Great Job Ricky your the man!!! Joe Ciamaichela Jr wins the COY title, he was in a tight race with Randy all year but he came thru big in the 2 day, to nail down the win. Congrats Joe!!!
2013 AOY
Rick DiIenno
2013 COY
Joe Ciamaichela Jr
---
---
Ricky DiIenno locks up his 2nd AOY crown. It was a real tight race this year with three anglers within 2 pts of the lead. Although Ricky could not manage a limit the fish he did bring were quailty enough to make him our first ever two time winner. Dale Gorrell wins the two day championship for the second year in a row. He held off a sunday charge by Mike Piccolo to nail down the win. Randy Iorio wins COY for the 5th time and 4th straight, the competeition was tough this year with 4 co-anglers giving Randy a good run.
2012 AOY
Rick DiIenno
2012 Two Day Champ
Dale Gorrell
2012 COY
Randy Iorio
---
---
Mike Piccolo lead much of the year based on 3 early season wins on the flats. But that did nothing but cause Dale Gorrell to focus. Conditions were tough with high muddy water But Dale managed the only limit on the final day to tie Mike for the points lead. Causing a special tie breaker tournament in which Dale prevaled. Randy Iorio locked up COY for the 3rd straight time, can anybody beat this guy?
2011 AOY
Dale Gorrell
2011 COY
Randy Iorio
---
Going into the 2 day, four guys within 5 pts of the AOY lead. Den didn't think he had much of a chance but 2 solid limits propelled him to win both the Division Championship and AOY. Randy had a great season, his win on the flats gave him a commanding lead going into the finals, and a solid limit on day one sealed the deal for COY.
2010 AOY
Den Budzitowski
2010 COY
Randy Iorio
---
Jeff Lead all year but Tim K, Mike T and Chris D closed the gap and gave us all an exciting finsh to the season. Jeff was trailing after day 1 but brought in a limit on the last day to win both the division championship and AOY. Randy broke into a good lead after the final one day event, and slamed the door shut with a good limit on day one of the finals.
2009 AOY
Jeff Warner
2009 COY
Randy Iorio
---
Ricky D, and Ralph Ferguson were in a tight race all year, but Rick Hung on to his lead on the last day winning both the Division championship and nailing down AOY. Ray M pulled a great come from behind win over defending co-angler champ Randy Iorio during the two day.
2008 AOY
Rick DiIenno
2008 COY
Ray Marcinkiewicz
---
Johnny V and Dave Seemans were in the closest AOY race ever, after day 1 of the championship they were separated by only 0.05 lbs. But John came thru on the last day with a big 13 lb. sack winning both the Division championship and AOY. The Co-angler race was tight as well with Randy, Rob Santos, Cody Shwartz and Ed Barry all in the running on the last day. But Randy's experience paid off with a good sack winning COY.
2007 AOY
John Vanore
2007 COY
Randy Iorio
---
Dave Seemans dominated in 2006 with 2 wins, 4 seconds and a 3rd place finish. But Trail Oliver deleiverd an impressive 21 lb sack for the two day edgeing out Dave for the 2 day championship. But Dave's second place was more than enuough to earn him well deserved AOY honors.
2006 AOY
Dave Seemans
---
---